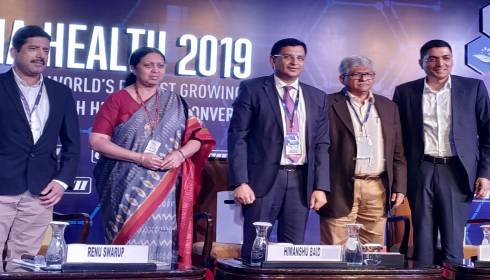 BS RAWAT
NEW DELHI: The medical devices sector wants the Government to come up with a law for a single regulatory authority for the sector, says the medical technology division of the Confederation of Indian Industry (CII).
Mr Himanshu Baid, chairman CII Medical Technology Division, also stressed ease of doing business stating that profits are coming down in the segment with government enforcing price caps on medical devices using the same formula as in case of drugs.
Chairing a seminar on "India as Major Player – Global Med-Tech Hub" in New Delhi, Mr Baid said, "The government needs to recognize that medical technology sector is capital intensive with a long gestation period requiring continual infusion of technology and accordingly take a nuanced approach in its policy-making mechanisms."
On the sidelines of the Asia Health 2019 conference, Mr Baid told DTMT, "We need globally harmonized regulatory policies providing safe and effective products for patients in India and the world."
"Beyond products, policies around investments, infrastructure, research and development add to the appeal of medical devices manufacturing in India," he said.
Mr Baid stated, "To make devices affordable and within reach of the common man, price control has been fostered as an elementary approach. A right balance needs to be achieved between price control, quality care and innovation."
Asia Health 2019 is a unique health platform converging multiple stake holders in the health ecosystem.
The conference has developed a cohesive industry engagement with core cross sectoral policy dialogues and strategic exchanges enabled through high profile plenary sessions, focused capacity building workshops, bespoke B2Bs, Industry delegations, disruptor talks as well as an exhibition of the latest technologies disrupting the sector.
The conference saw a global conglomeration of Industry experts, senior policy makers, ministers, decision makers from the ASIA region, and multiple stakeholders including innovators who imagine a more equitable and healthier world.